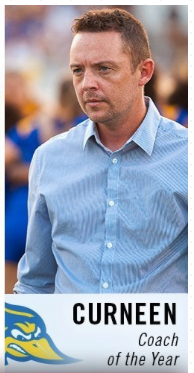 "Without a doubt, Big D's work with us has transformed our team, both on and off the field. In building our program here at CSU Bakersfield, leadership and culture were two of our target areas when we arrived. However, they were also two areas that we were struggling to develop at the same speed in which we wanted to grow. When Big D came on board, she brought a deliberate approach to creating an identity, along with the skill to communicate and a level of energy and focus that I have never experienced before. She has a unique ability to connect with every player and every presentation is a learning experience for everyone involved. The depth of her work and quality of her follow-up has meant that her message is always there. After she began working with our team, we immediately had the best season in program history, but Big D's work has gone way beyond results. Not only have our players grown throughout this process, but from a coaching perspective I learned an enormous amount from her work and have also grown personally and professionally from having her alongside us. We have re-evaluated and improved so many areas in our program and are continuing to do so every week. Our staff are also now challenging each other to get better and our culture is improving so much that it is becoming our number one recruiting tool."
Gary Curneen | Head Coach, Cal State Bakersfield Women's Soccer
"D is the real deal! Having her work with
our coaching staff was a no brainer. We all want to make ourselves better and make our coaches better. Donna does just that. She has an unbelievable ability to coach coaches, inspire them to connect with their players, and create a culture that brings out peak performance from players."
Bobby Puppione | Girls DOC for CUP/Cincinnati United and Technical Director for Cincinnati Development Academy
"We are so thrilled to have the pr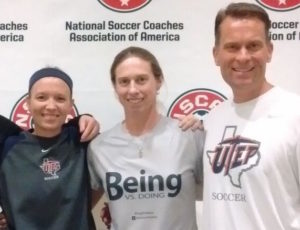 ivilege of continuing to work with Donna. Each year she has not only facilitated growth of the players an
d team leaders, but has challenged the coaching staff
to keep developing and improving as well. Her visits to campus and Skype sessions are always direct, honest communication with our team, our leaders, and coaches. She has the ability to clearly assess the mental and emotional environment and provide us with ideas that cater exactly to the needs of our team. We know our mentality will only keep getting stronger working with Donna."
The Coaching Staff | UTEP Soccer 2016
"Bringing Donna 'BigD' Fishter on board was essential for the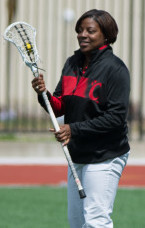 continued growth of our program. One of the main points of growth we have seen this year is our communication. She encouraged our players and coaching staff to be honest and understanding in how we communicate with each other on and off the field. 'BigD' has challenged us to self-reflect, believe and build together! We are continuously learning and developing into better leaders, coaches, and players with Donna! "
Gina Oliver | Head Coach, Cincinnati Lacrosse
"We are so excited to bring Donna (a.k.a. BigD) to El Paso, Texas. Our team told her that the game is 80% mental and on average we only spend 10% of our time working on mentality.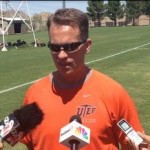 BigD is now in the process of helping us gain that mental edge which we believe will pay off in big games. She really motivates and empowers our team leaders and is helping us take a hard look at our program to discover any and every area that can make us better. With BigD's help we created a 'team identity' which now gives us a 'why' for everything we do. We are always looking forward to what BigD is going to teach us next! "
Kevin Cross | Head Coach, UTEP Women's Soccer 2015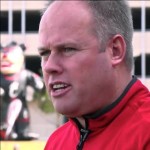 "We were thoroughly impressed with Donna's ability to deliver a program identity that symbolizes our behaviors on & off the field and in & out of the classroom. With 20+ underclassmen next fall we knew that our leadership would be a defining factor in our future successes. Donna has put our players & staff on a path where setting the example by being vulnerable and brave in confident manner can lead to some very special relationships."
Neil Stafford | Head Coach, Cincinnati Women's Soccer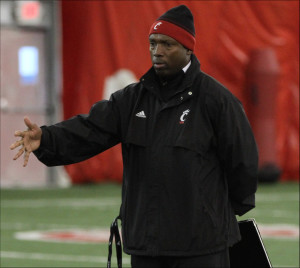 "Donna did a fabulous job with our team and coaches. She really got to the core of the team building and leadership process with our team. We have had other leadership consultants come in and work with our team and she is by far the best we have had to this point. We are excited to see how her work impacts our team this spring and coming fall"
Hylton Dayes | Head Coach, University of Cincinnati Men's Soccer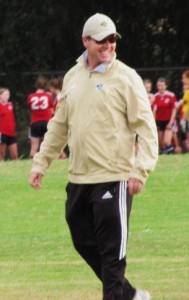 "We've had Donna come work with the team over an extended period of time. She is able to say similar things to the players that we as coaches say, but Donna is able to get more out of them, while doing it in a fun and entertaining manner. A huge benefit is how she brings her real life experience as a soccer coach into the sessions. The players are individually and collectively improving in front of our eyes. Donna is able to show that what is done on the field is not simply all that matters, but that being focused to improve every day is what makes the difference.
I fully endorse Donna and feel that she has and will continue to be a great benefit to our program."
Ged O'Connor | Head Coach, St. Leo Univ Soccer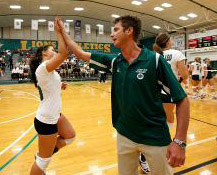 "Donna has done an incredible  job with my team. She has instilled in them that greatness is a choice.
We are working hard everyday and improving our team chemistry as a result of her sessions. I think she does a fantastic job teaching these kids lifelong lessons and these same lessons are going to be key factors in our upcoming success. I would strongly recommend Donna to any coach and any team."
   Sam Cibrone | Head Coach, St. Leo University Volleyball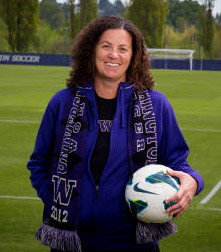 "To be a lifetime learner, and  a truly great educator and coach, one must be receptive to being coached themselves and willing to change and grow within the profession. Coaches having a 'coach' is vital to staying enthused and continuing to be a good leader
for your team and program."
Lesle Gallimore | Head Coach, Univ of Washington Soccer
[partnering with Michelle Akers on team development series]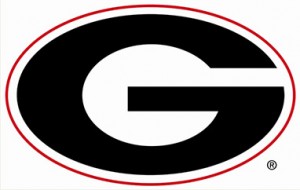 "The chance to spend the day with Michelle and Donna was absolutely phenomenal. The players left The Farm with a new outlook on things like teamwork and accountability. It really had a profound impact on our team. In a word, it was inspiring, and I hope we can do it again soon."
Steve Holeman | Former Head Coach, University of Georgia Soccer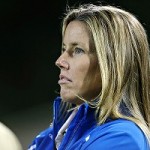 "Donna had extraordinary impact on the student-athletes at UCF but she also made me a better coach on a daily basis. We were successful because of the ideas and training she implemented in the program. These educational components are now helping us develop mentally strong influencers at UCLA."
  Amanda Cromwell | Head Coach, UCLA Soccer – 2013 National Champions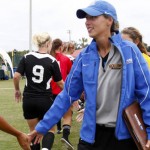 "When our staff and team began working with Donna we couldn't stop calling and emailing to get her insight. One of the wonderful things she does is coach our coaches. She has focused on polishing the strengths in each of our leadership styles, while at the same time guiding us in the development of new and better methods to effectively communicate with our players.
Our team is now receiving the most out of our coaching messages. Donna is also coaching our team on topics involving leadership, attitude, and mental conditioning. Her training is not broad based, but is specific to our needs after careful observation of practices and games.  Donna has helped instill a sense of pride in who we are as Rollins Soccer and has helped create  momentum at critical times of the season.  We've had individual players meet with her who then turn around and have immediate impact in games.  Any team working with Donna will receive insight and training that gets results."
Alicia Milyak Schuck | Head Coach, Rollins College Soccer
2013 NCAA D2 Sweet 16
2014 NCAA D2 National Champion Runner-up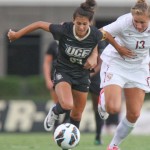 "The inspiration and motivation that Donna provides is priceless. She is a coach, a teacher and a true mentor to me. Donna is an excellent role model and her leadership experience and knowledge has given me a wealth of information that is not only valuable on the soccer field, but also in the business world. She presents herself in a very charismatic and professional manner. Her belief that self-confidence is a key quality leaders must possess has proven that I have to "bet on me" before anyone else will. Donna has made an everlasting impression on my life. I am a leader in large part  because of her guidance and support."
Nicolette Radovcic | Associate-Sports Marketing & Sponsorship at KPMG, Former UCF student-athlete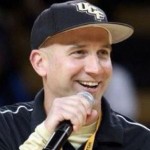 "Donna is passionate about pointing people toward their purpose. Whether pouring into the leadership of an organization or walking with individuals to see them tap into their true gifts, Donna has a keen ability to identify strengths and growth opportunities in order to effect positive change."  
John R. Evans | 3 Degrees, Inc.
"As a freshman at UCF so many years ago, little did I know the impact
Donna would have
in my life beyond her role as my coach.  Her passion for developing people was evident in her coaching style and the way she challenged each of us as individuals. 'Big D' opened my eyes to the big picture, all the while encouraging me through the smaller steps to reach my personal goals. Her efforts helped me recognize my passion for a greater purpose, and helped me grow as a strong leader. To this day, I still consider her a mentor and resource as I continue to build leaders in the student-athletes I work
with at Alabama. More than that, she is my friend and someone I will always trust."
Jessie Gardner | Alabama Athletics, Former UCF student-athlete
"Your (NSCAA) presentation was great. This semester we have been using a lot of what you mentioned and it has gone really well so far. Thanks for being so honest and helpful."
Alex Denning | Lubbock Christian University – Head Women's Soccer Coach
"She motivated me as a person, as a student of sports, and as a coach."
Pierce Jackson | UCF College of Education
"Coach Fishter is the kind of person you hope your child has the opportunity to be mentored by."  Charles Tucker | UCF College of Education
"Coach Fishter is a good person to go to when you are in need of advice and she definitely makes one heck of a mentor for any young adult or athlete who needs guidance."
Chase Curran | UCF College of Education
"Donna is a role model in my life because she exhibits traits of a leader … honesty, integrity, loyalty, enthusiasm, dedication, and sacrifice. As my coach, Donna was a leader commited to excellence everyday. I strongly believe leadership is influence, and Donna has done just that in many lives including my own. She is a person of passion and a source of motivation in my life regardless of the situation."
Kacie Horner | Franklin High School Teacher, Former UCF student-athlete