Donna Fishter is considered an architect of team culture & player development. In today's society it is coaches that have the greatest impact in an athlete's life. That is why Donna is so passionate about educating coaches on how to connect better with players and build mentally and emotionally strong athletes. This intrinsic focus with individual athletes filters into how the culture of a team functions. Donna believes the beliefs and behaviors of players can be mobilized in such a way to create ownership in the team and what the corporate world calls fierce loyalty. To build this foundation, coaches need leaders they can count on to influence teammates and shape the culture. Leadership is key in any organization, and that is why Donna became a certified leadership specialist with the John Maxwell Coaching Team. "Having great team leaders and captains is a critical piece in building championship teams," says Donna.
This intense focus on leadership and team culture began in what Donna now calls her "laboratory" at University of Central Florida (UCF) Women's Soccer. Donna was a member of the UCF coaching staff for 13 years with World Cup Champion and Olympian Amanda Cromwell. From the beginning of her stint at UCF in 2000, Donna implemented a leadership training program and was the architect behind a team culture that was instrumental in moving UCF from #145 (NCAA RPI final ranking) in 2000 to a consistently recognized Top 25 program by 2007.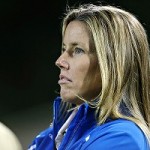 "Donna had extraordinary impact on the student-athletes at UCF but she also made me a better coach on a daily basis," said Amanda Cromwell. "We were successful because of the ideas and training she implemented in the program. These educational components are now helping me develop mentally strong influencers at UCLA."
In addition to being the leadership specialist and team architect, Donna was the  Travel Coordinator and Goalkeeper Coach. UCF has a legacy of impressive goalkeepers and during Donna's 13 seasons with UCF, the Knights posted 106 total shutouts. Donna mentored some of the top keepers in school history, including Jessica Kuhlman, Jennifer Manis, All-American Aline Reis, Lianne Maldonado, and Connie Organ.
Jessica Kuhlman – Ranked 5th in UCF history with 19.8 career shutouts | 1st Team All Atlantic Sun Conference.
Jennifer Manis – Ranked 2nd in UCF history with 10 shutouts in a single season, a 0.87 Goals Against Average (GAA) and 126 saves | NSCAA All Southeast Region Third Team 2006 | Conference USA Defensive Player of the Year 2007 | NSCAA/adidas Scholar All America 2007.
Aline Reis – Led UCF to an NCAA Elite Eight berth for the first time in 25 years | First starting freshman keeper since 1995 posting 6 shutouts and 107 saves, the fifth-most in UCF history | NSCAA All-America 2009 | Hermann Trophy Watch List 2009 | 2 time, 1st Team All Conference USA | 2 time, All Southeast Region Team | NSCAA Scholar All-America | Nominee for Lowe's Senior Class Award.
Donna has plenty of expertise in the camp business. For 13 years she administrated and operated UCLA Head Coach Amanda Cromwell's Central Florida Soccer Academy. Now re-branded as Amanda Cromwell's Soccer Academy, Donna coaches and provides leadership training at this College Bound Champions Camp.
Donna is also involved in mentoring and training elite athletes at Michelle Akers Premier Player Training (PPT) in Atlanta, GA. PPT is a combination of soccer training, strength & conditioning, and fitness, as well as mental training and those intangible traits that are found in the best of the best. Everything is centered around knowing yourself, driving yourself, and being committed to what you believe.
Donna is a certified Leadership Coach as part of the John Maxwell Coaching Team. "John C. Maxwell is an internationally recognized leadership expert, speaker, and author who has sold more than 13 million books. Every year he speaks to Fortune 500 companies, international government leaders, and organizations as diverse as the United States Military Academy at West Point, the National Football League, and ambassadors at the United Nations." (excerpt from JohnMaxwell.com)
Donna is a 1995 graduate from Anderson University in Indiana with a Bachelor of Arts degree in graphic design and minor in communications. Donna competed as a dual sport athlete in soccer and softball, and upon finishing her eligibility, she joined the women's soccer coaching staff at her alma mater. In 2012, Donna was inducted into the AU Athletics Hall of Fame.
She spent 1997-1999 playing in the United Soccer Leagues women's division, starting her career with the Indiana Blaze in 1997, joined the Orlando Ladyhawks in 1998, and finished her playing career in 1999 with the Tampa Bay Extreme. After a one-year stint as an assistant coach at Edgewater High School in Orlando, she served as the head coach at Trinity Prep in 1999 and through the years has coached various age groups in club soccer.
Donna has spent time in the classroom at UCF, serving as an adjunct instructor primarily teaching for the College of Education (Sports & Fitness majors/minors).
Many people inspire Donna's life, some of whom are: the Apostle Paul, John Maxwell, Condoleezza Rice, John Wooden, Cal Ripken, Peyton Manning and Tony Dungy.
Donna is pursuing a Master's Degree in Biblical Studies at Reformed Theological Seminary.  She is a covenant member of Genesis Church and serves on the Guest Relations Team.
Donna lives in Orlando with her terrier/schnauzer All-American dog named Condi. When Donna travels, Condi spends vacation time at Happy Paws Pet Resort in her VIP suite. During a regular week, Condi is training for her dog agility trials and doing her community service visiting nursing homes.